Accommodation for Foreign people [ Meme terrace]
                   Rooms for rent
Non profit organization mentor-net works for helping foreign people. We make accommodation for people from overseas. This rooms are prepared for the people who hard to find apartment.
Mentor-net make advice for living procedures.
Our accommodation name is [meme terrace]. There are 5 clean and safe rooms. We provide the rooms weekly rent. We hope to rent for the tenant who cannot return their home countries because of covid-19, job seeker, one-parent and their children.
If you have problem about status of residence (visa), living in Japan, please call and come for advice. We provide Japanese lessons on-line, so you can study Japanese with your smart phone and computer.
Please ask us in Japanese about system of rent.
Please share this information for your friends in Facebook.
Notice
1 who can stay?
Single individual.
One-parent and his /her children
People who cannot return their countries, job seekers, technical intern trainees, specified skilled workers, students, designated activities
People who gets public assistance.
* All tenant required status of residence (visa) in Japan.
We have several rules of meme terrace. Everyone should keep the rules.
*5 rooms for rent (1person/a room)
2, When?
Please contact us every time, we send information.
3, Equipment in accommodation what you can use.
 Bed, bed clothes, washing machine, refrigerator-freezer, kitchenware, closet, etc.
4, How much the rent?
7000 yen per week including charges of water, gus, electricity.
Payment in advance.
We do not estimate another charges.
We do not require a co-signer.
If you want, you can live longer.
5,We consult with your helper. We make agreement with your belonging company. For example, school, cooperation, organization, foreigner support group.
Consultation for people from foreign countries and their helper.
 Matters: Immigration procedures, life, etc.
Free call: 0800-919-2794
E-mail: visa@mentor,or jp
Online consultation: We use VRoom[Chrome/ChromeEdge/Safari]
Contact: NPO Mentor Net [meme terrace]
Address: 〒702-8035 6.4 Fukuhama-cho,,Minami-ku, Okayama-city
Free call: 0800-919-2794
HP:http://mentor.or.jp/
Map of Meme terrace, inquiry form, are prepared.
Facebook(ふぇいすぶっく):事務局(じむきょく) NPO法人(ほうじん)メンターネット(めんたーねっと)   Messenger(めっせんじゃー)で連絡(れんらく)できます。
   We use messenger in Facebook.
E-mail: visa@mentor.or.jp    
TEL:086-280-5322   FAX: 086-280-4270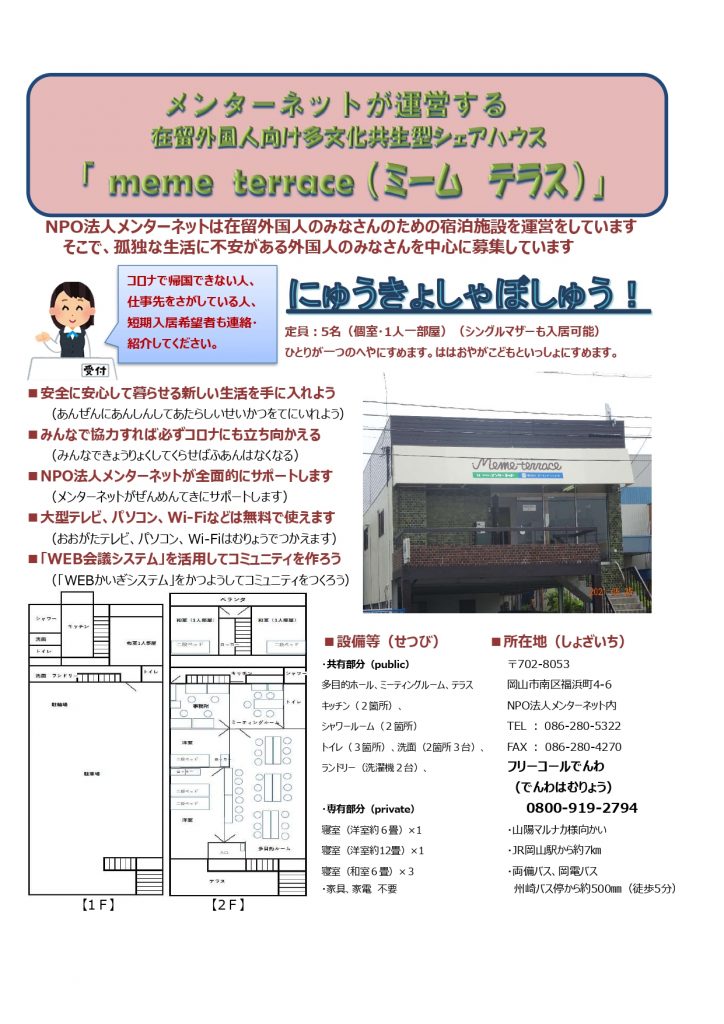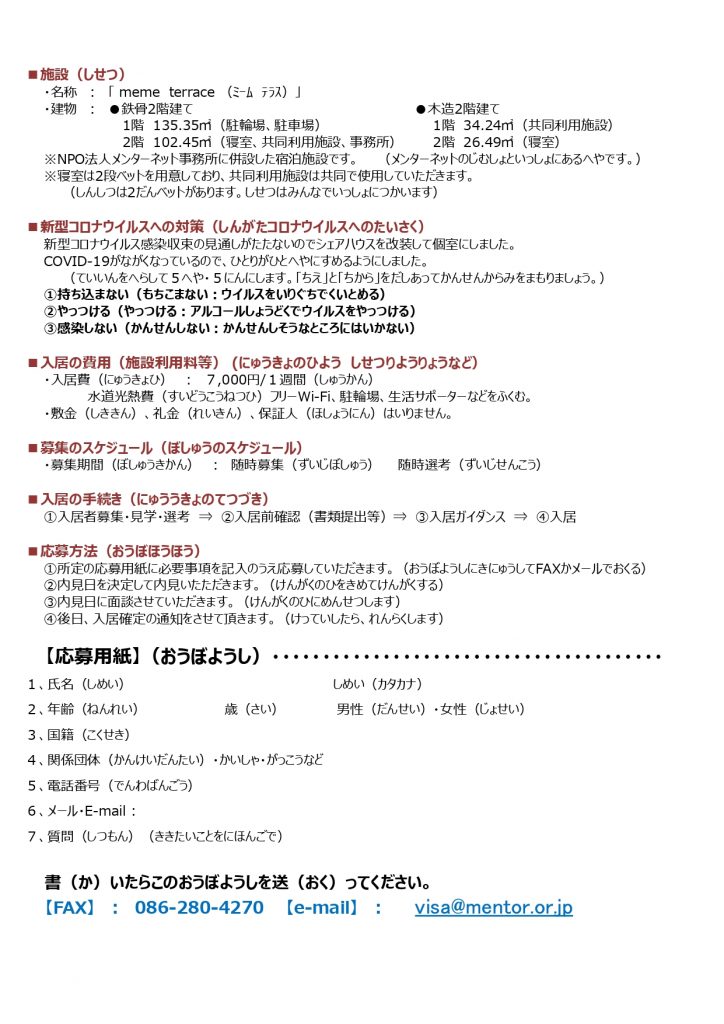 2021年8月28日 5:57 PM  カテゴリー: 未分類